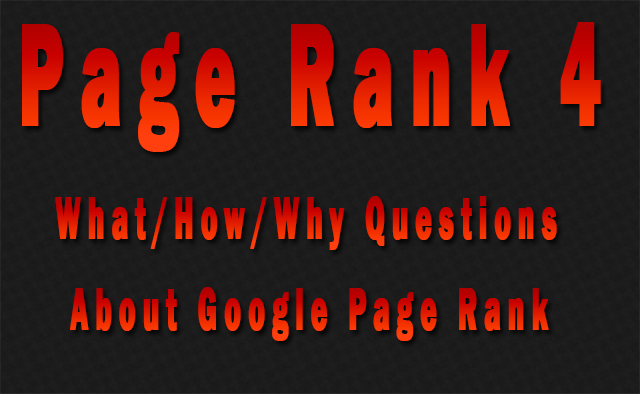 Freakify got PR4. It is one hell of an achievement. So, most of our blogger friends mailed us how we got this, what should they do to get a good page rank update and a lot of similar questions. In this post we will make you know some very simple steps you should follow and some very dangerous ones to avoid.
Don't Miss This : Google Page Ranks are Updating May 2012
(What I wrote about earlier PR update)
What is PR – Page Rank?
PR or Page Rank is a phenomena with which Google ranks your website between 0 to 10. Its not a simple thing to conceive but I have a definition in my head which I would like to share with you. Here you go
"Google Page rank is appreciation of Google towards your content quality"
Make worthy content which Google can appreciate. Google updates the PR every 3 months roughly. If you have high PR you have high authority. It won't give you traffic it won't give you money it is just that you get a good Authority.
How to check PR?
You can check your page rank from a commonly used site that is Page Rank Checker. Just put the link of your blog or any page you want inside it and check what is your page rank for that particular page. eg.g to check our blog's rank we put in http://freakfy.com
How to get PR these days?
There are no hard and fast rules for this question. It is not like that I will tell you do this this & that , and after doing that you will get a page rank. It is a matter of awareness, you need to have a strong observation over recent trends of web development. You need to follow people who know about these things (e.g. You can subscribe my public updates at Facebook from this link
---

Do's to get a Page Rank now-a-days
Guest Posting
Make good content, contact blogs like Freakify.com has a Contact Page and a Write for Us Page , contact other blogs with your content in your hand ask them if they would like to post the attached content on their blogs. Do add your author Bio below the post to at the most two links to your blog and 3 lines of your introduction. By this way you will get a good exposure as well as traffic and in return some of the PR share :)
Commenting on Related Blogs
Do comment on related blogs. If you have a technology blog and you comment here at Freakify.com then even if you get nofollow links still you will get a good deal of PR share sometimes. (Yes I said sometimes not every time to make you realize that it is not the only thing you should do)
Other Methods
There are other methods but I am no big fan of them. All I would suggest you to do is make worthy content on your blog. Write for your readers not for PR or earning, once you attract a good base of traffic you will start earning very well.
---

Don'ts to get a Page Rank now-a-days
Link Building Softwares
Don't use any kind of link building software or service from anyone. They are no more working no-a-days. Work on the quality not on quantity more links from useless sites are not good less links from good sites are more than good.
Worring about PR
Yes, don't worry about your PR. Make your blog good, make it for your readers. Write on the topics you think you can write better than others. Write well, tell all what you write. Try to be more socially active than you are right now. Help people with things.
Unnatural Techniques
Avoid trying any unnatural technique for your blog page rank. Be a natural blog. Don't try to force Google. Leave such activities. Google can take care of this stuff. All you have to do is make yourself and your blog famous.
Your Turn:
Tell Us what is your Page rank now?
Did you get an upgrade ?
Did you get a downgrade ? Share your story in comments so that we may guide you !
[ad1]