Say No to Girls when Blogging

People say that "behind every successful man there is a woman." But if you ask me I will definitely rephrase the above saying i.e. "behind every successful man there is no woman." Girls may sound as hot, sexy, stunning, beautiful, and long list of blah blah blah but to me girls are the most irritating creation of nature. I am sure many of you who will read the above few lines will feel like killing me but I am here to tell my personal experience with girls.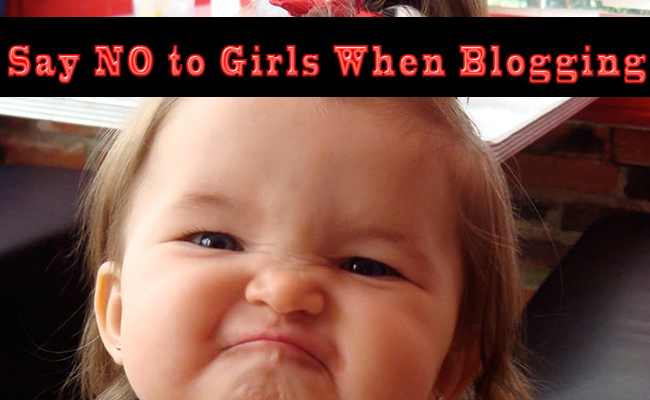 You spend decades still you are unable to understand their psyche. They are so mysterious that you never get to know who they really are. They are truly a chameleon ever ready to dump you if do not do what they want. Girls love to treat boys as there servants rather slaves would be the best word to describe them.
Deadliest Combo

Girls plus blogging is the deadliest combo. It is like you can do either of the two. If you are running a successful blog it is a very sincere advice to keep yourself away from girls. They can only ruin your work and distract your attention. All the day long they try different methods to draw attention of yours. One may say they are perfect "DRAMA QUEENS." They give long missed bells, forward messages on mobile, messages on social networking sites, hence, trying every tool to make you talk to her. Sometimes, they post bogus comments on your posts just to irritate you and spoil your work. The result is your work is affected and you lose your traffic.
Girls are made to be soft spoken and it is very obvious that you cannot afford to offend them. However, we poor souls tend to get carried away by their benign colloquial words and you find yourself in a predicament. They try to behave and talk to you in such a sweet manner that you fuckingly get trapped with no room for escape. You neglect your work badly. You spend hours 24/7 talking to them ignoring the fact that you have a blog to handle which is a big responsibility if you want to prove yourself in the world of blogging. Especially if you are a teenager then it is the high time of your career during which you have to cope with your studies and blogging which is at this stage nothing more than your passion. So keeping yourself away from this girl business is beneficial. The moment she enters your life you get deprived of mental peace.
Say No

Saying no to a girl I know for most of you can be a tedious task. You must acknowledge that irrespective of commitments to work and family, there are moments when you go to great lengths to help her because you cannot say no to her. This is indeed the bitter reality which explains the extent to which you are helpless if you are a part of this business.

Now the question arises what next should be done if you are stuck up with any girl and you want to get rid of her. Certain strategies can be used which may be:
Try Diplomacy- giving favor to a girl to an extent which is not against your rules and not at the expense of your work.
Listen to Her First- the foremost thing is that you learn to listen to her completely till she finishes speaking. Most of you have the habit of saying 'yes' even before her question gets over. The result is in the end you get sucked up in an unpleasant situation. Hence, it is advisable not to mollycoddle in a bid to win her charm, which I am sure most of you want to.
Feign Ignorance- Sometimes, you face a situation e.g. writing a post during which you do not have enough time to answer her questions. At the same time, you can't afford a fight which may result in case of not answering so a phrase like, "I don't know much about it" can do the job.
Be Straightforward-however, if she insists on answering and will not spare in any case, then you should be firm enough to give a straightforward denial. However, it is advisable in order not to waste your precious time you should not to wrangle or remain choleric to her insistence.
Speak the Truth-Last but surely not the least, you should speak the truth. An excuse is merely a sugar coated lie. If you can't take along this relationship just say it to her rather being fake. If the girl is understanding then she will understand your dilemma and shall help you move on with the problem.