Recently our Giveaway #5 ended, so for those who didn't win the last one here is the 6th Giveaway i.e. Win 5 license keys for Cloud System Booster Pro worth $100. So, how can you participate? See it below the article. Read about Cloud System Booster Pro and its awesome features to know what you are about to win.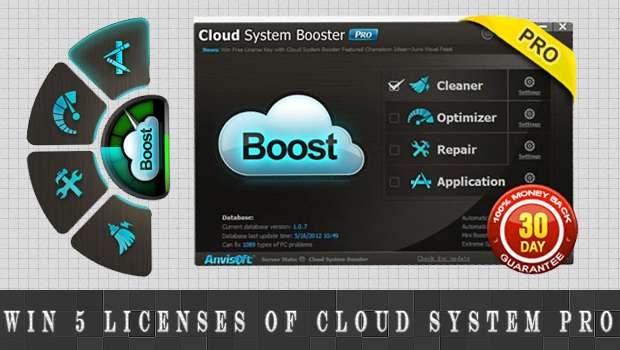 Cloud System Booster Pro
If you are searching for a program that can help improve your computer performance, Cloud System Booster Pro is the perfect tool for you. It is a new system maintenance & optimization tool based on cloud technology that means it can make use of an online database to provide the most up to data fix and solutions. This all-in-one tool includes four powerful functions: Cleaner to scan and clean PC powerfully and thoroughly to free up disk; Optimizer to optimizer start up items, services and network to speed up PC; Repair to repair PC errors related to Windows system and registry; Application to optimize the third party installed applications.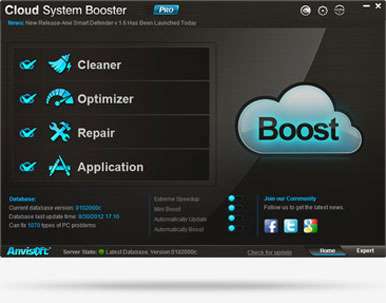 Cloud System Booster Pro Key Features and Benefits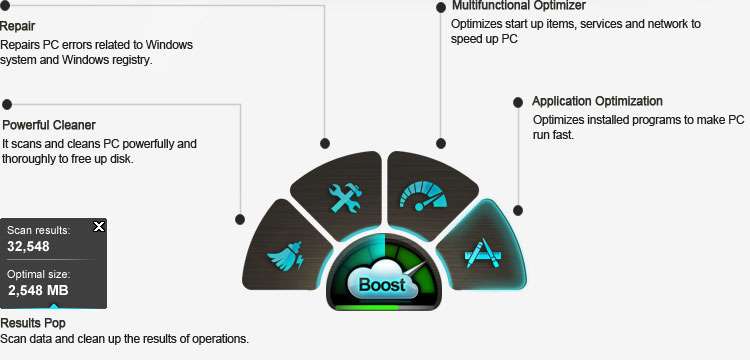 Powerful Cleaner to Clean and Free up Disk – It scans and analyzes entire computers in as little as one second, and cleans computer by several aspects, including junk data on disk, registry, and more unneeded Windows files. Cloud System Booster's engine is fast and powerful, and it scans deeply and thoroughly than traditional system cleaner and optimization tool.
Disable Unneeded Services and Optimize PC – Services are small helper programs that aid larger applications. By customizing which services are active and which are disabled, Cloud System Booster can optimize your computer to make it perform at its peak. It optimizes network connection to accelerate surfing speed and make internet speed run smoother.
One Click to Perform a Scan and Execute Through Cleaning and Fixing – Cleaning computers, fixing PC errors, and optimizing System are not difficult by the one-click solution provided by Anvisoft. After setting your own-defined scanning and cleaning or fixing modules, you can simply click the Boost button to execute completely PC cleaning, optimizing and repairing. It's designed PC novices without thinking.
Typical Expert Mode for Professional PC Fix – If you are a tech professional, Cloud System Booster will also satisfy your requirements. Go to expert mode by clicking EXPERT button on the right corner, and select the module you want to scan, and also you could select or deselect items you want to scan in your system.
Chameleon – Change Skin with Simple Drop – You will not miss this amazing function of Cloud System Booster. It's nothing related to system optimization or cleaning function, but it is fun and easy to use yet really shines your eyes. You can select and make your favorite pictures to be the background or skin of Cloud System Booster. Automatically Boosts PC and Makes PC Run at a Peak
Performance automatically boosts PC when PC is idle in background. It also can care PC at a scheduled time automatically without disturbing your work. Schedule an appropriate time to perform the boost by your right choice, and you don't need to execute it manually any more.
Online Cloud Database – Cloud System Booster allows you to download and install the latest online cloud database automatically or at a scheduled time. It keeps your PC running smoothly and efficiently with frequently updated online database.
Mini Cute Mode – With innovative design, Mini Cute Mode will give a fresh idea and feeling of PC optimization software. It's mini, light, cute and easy to use. There is no need for you to open the main screen of Cloud System Booster to optimize your PC now if you give a try for Mini Cute Mode. You can read more about Cloud System Booster Pro
Participate in the Giveaway
Related Stories
Recently our Giveaway #5 ended, so for those who d...
Recently our Giveaway #5 ended, so for those who d...