Are you wanting to widen your social circle? Or you intend to become famous? So what you are, in actual, is a social freak!! Working on WordPress, playing with its various plugins definitely triggers fun in its potential users. So if you're hunting for a more social visibility then, better not waste more of the time and get your hands on the Floating Social Share Bar; Best WordPress Plugin!!
Floating Social Share Bar – Review
Today's post, entitled "Floating Social Share Bar; Best WordPress Plugin" is about the best social media share plugin for WordPress which is one of the fastest one ever put on the site. This plugin has been created for a wider WordPress community so that they can share their work more easily on a much broader forum. The social buttons which are inclusive of this plugin include Twitter, Facebook, Google+, Pinterest and LinkedIn. What ease and simplicity this plugin offers can be seen from the following content that will reveal you the incredibility of this scrupulous plugin.
About Floating Social Share Bar
The [do l = "http://wordpress.org/plugins/floating-social-bar/"]Floating Social Share Bar[/do] is the best social media plugin for WordPress that is capable of allowing you to extend your social media approach. It marks the presence of a horizontal bar on all your post types, maximizing your social media shares. Thus sharing your content becomes much easier and it gets reinforced among a huge traffic.
Best Social Media Plugin
Not all social plugins are that remarkable and significant as they can slow down your site. But when it comes down to the Floating Social Share Bar, it is something regardless of impacting the site's speed. It is the fastest WordPress Plugin which is slim and much easier to use. As mentioned before, it adds the major social media buttons on the site which can lead to a maximum number of likes, shares and tweets. The horizontal bar offers a user friendly interface, having a drag-and-drop approach to these buttons. Unlike other plugins, this one loads script when required. The script is never loaded when the page is being loaded, but with this plugin a replica of the counts is kept allowing the social buttons to get loaded without impacting upon the site's speed.
Installing Floating Social Share Bar On WordPress
Installation of the Floating Social Share Bar involves a couple of steps. The foremost step carried out is installing and activating the Floating Social Bar Plugin from your WordPress admin. Once you're done with this step, you'll see the addition of a new menu under Settings » Floating Social Bar.
The next step is to add the social share bar to your blog posts, and for this simply drag and drop the social buttons available in the social services area. You can then display them according to your comfort and placement. The next step to be carried out is adding up your Twitter ID in the following format wpbeginner. Make sure that the title of the share is visible enough which, in most cases, becomes invisiblle due to width constraints.You can also choose the type of posts you want to add on this social media plugin.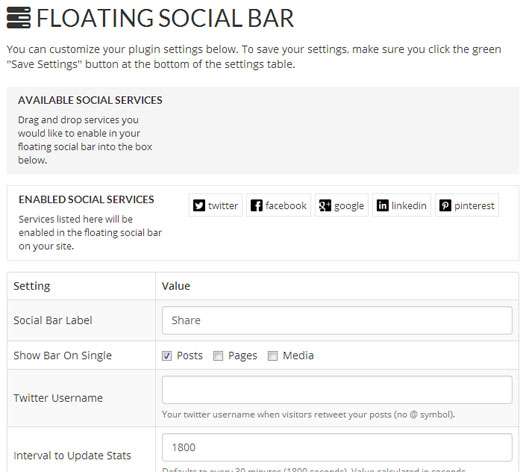 Moreover, there is this cache interval field which allows this plugin to be the most efficient one and it is recommended not to change the default number unless you're much familiar with it. The social count that this plugin gets is from the APIs and is stored up in a cache of 30 minutes. This count has been given the default settings, and it gets this only when the post is loaded which the server load.
With this plugin you can make the bar static and can also set the positioning for it. There is one checkbox which when disabled will actually disable the socialite and will make the flickering stop. This will not load the script but will open the share bar in a new window.
This ends up the entire process and what you'll get in the end is a horizontal social share bar.
Support
Because the Floating Social Share Bar is a free plugin its support is limited. Though, this plugin has been tested for various browsers and servers but it has got a good support through the WordPress Forums. It can be called the [do l = "http://www.wpbeginner.com/floating-social-bar/"]Best Social Media Plugin[/do] now.
Conclusion
Social Media Share buttons have much significance for every site but most of them impact the site's speed. But this is not the case with the Floating Social Share Bar as it provides maximum social visibility irrespective of the site's speed. It's a great eye catching WordPress Plugin that allows you to have maximum shares for your posts. So, wait not more and hurry up downloading this amazing social plugin.
[ad1]