Winners
We have announced our winners! for Giveaway #2 Win 3 licences of Windows Password Reset Software
Here are the names
Zain ul Hassan
Guppu Boss (

danizzpetrol

)
Yahya (

Dramey Baaz Larka

)
We hope you guys have got the mails from us.Otherwise contact us through contact form.
Quick reminder !!!
The Giveaway of 10 IDM Licenses is still up, participate in it a.s.a.p
LINK : https://freakify.com/2012/06/giveaway-3-10-internet-download-manager-free-licenses-worth-300/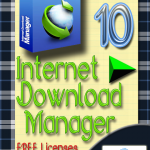 Freakify turned 2 years old this week so we decided to reward our worthy readers with some good giveaways.One of them is [Giveaway # 3] 10 Internet Download Manager FREE Licenses Worth $300. So read the set of rules below and enter the Giveaway right now. Internet Download Manager (IDM) is an internet download manager that helps […]
Related Stories
The 3D fever is seen everywhere these days and a l...
Cloud System Booster Pro Winners of Cloud System ...