Responsive design is one of the most discussed topic these days in modern web technologies.By responsive design one means to make a site's design responsive to the screen size on which the site is being browsed. eg. if a mobile opens it , it will show clickable menus, and readable text without zooming, and when a computer screen browses that site it does the same.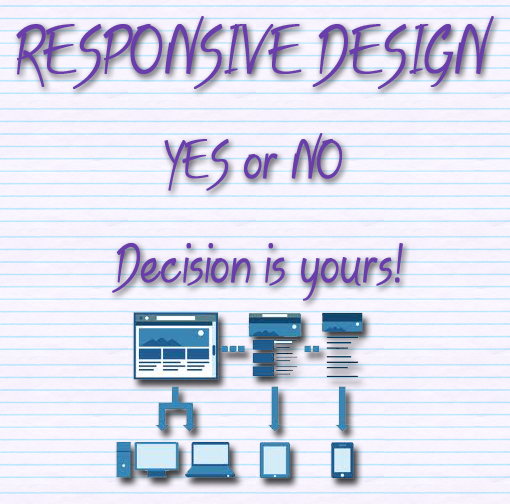 Many probloggers has shifted their sites and changed the designs to make them responsive, others are left behind or still are waiting for a verdict.Yes , verdict ! they want a solid confirmation of things before they make their sites responsive , they need some questions answered before they go responsive.
Today I am going to discuss what are the pros and cons of this term "Responsive Design" and what are the questions.
Advantages of Responsive Design
Modern
Of-course responsive designs are modern.If you have one on your blog people will think of you being a good web developer , who keeps himself and his blog up to date with latest trends in Modern web technologies.
Looks Cool
When you find your site browsing in a correct manner on every kind of device you can gather , you find it cool.People start talking hey do you know xyz site opens differently on each device but remains easily readable on each.
Self contentment
You feel self contented that you are doing a great job , making your site good, and caring a lot about each and every person around the globe, who is connected to you by your site as a reader.
Disadvantages & Questions
Complex
responsive designs mostly become complex , most of the readers find it real hard to locate the things in the sidebar because on their cell-phones there is no more a sidebar appearing.Which in responsive design has moved below or above the content to compensate the readability.
Hard To Code
Making our site design responsive is not an easy thing to do, it is a hard thing a hard to code way, and if you can't code it yourself you will feel hardly satisfied with the response of your site (eg important things will dislocate ! in response to a particular screen size) If you hire someone else to do that, he/she might charge you more than a normal Job.
Does responsive design worths it?
I don't think so responsive design worths the effort most people put on it without knowing the fact they hardly have 5% of mobile traffic in house! When you realize that a person wants to subscribe to your site on mobile so that even if he forgets about it, he starts receiving updates from you through emails, and there after he can become a loyal reader.I mean who uses to browse sites with mobile on a permanent basis?
What about Lead Generation ?
Yes, this is some important thing I want to tell you, I have heard from some probloggers that they found lesser lead generations in a responsive design as compared to normal design.You may be reading this like o.O what?
RUDE CONCLUSION:
Let me tell you what you actually do with your site when you make it responsive.You make it hard for your readers to find things on your site.You make them search for the stuff which once used to be in your sidebar (as the responsive design dislocates the sidebar) .Users who are already quite bad at finding things on their own leave your site at the very moment, increasing the bounce rate, you start loosing your site's worth in most cases.This is the reason why most of the sites like NYtimes , etc are not following this latest trend. A user can zoom into your site as this is what he/she has to do in 90% cases while browsing, but when on your site he remains unable to find something he/she thinks that this may be the mobile version of your site with less features ! In turn you start losing those mobile readers too.
What I do?
I call myself an Experi-mental:) (I hope some of you will understand what I meant) , so what I do is to experiment things.One of my blogs is responsive all others are not.Still eyeing over the analytics to switch over this new trend or not.In the end of the day decision is yours.
Update: I love adaptive responsive designs. They work great. If you code them right.