I have been planning for a massive giveaway before July ends, but was a bit late due to several projects, and redesign of Freakify which is still in beta stage but almost 99% done. So today I announce a giveaway of three plugins by the team of Maxblogpress. If you are a regular visitor you may know the simple rules, otherwise I am about to repeat them. It will be consisting on some real simple step. You will follow us on Twitter & Facebook , after sharing & tweeting this giveaway you will be commenting here( Try to avoid single line comments, and do write 2 or more lines.)
Maxblogpress Plugins Giveaway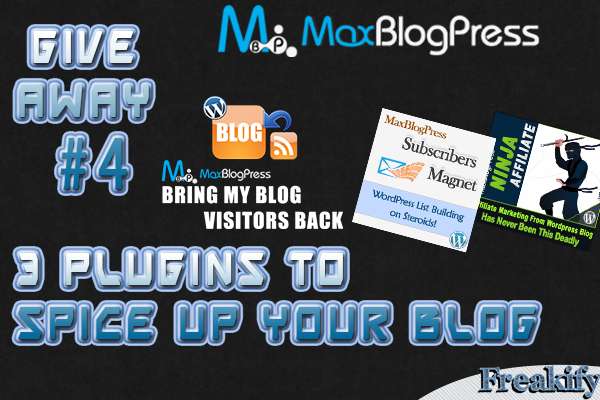 So, what is in the giveaway ? There are three plugins in this giveaway. All of them have been doing real great these days. Let me list them all here.
MaxBlogPress Bring My Blog Visitors Back
MaxBlogPress Ninja Affiliate
MaxBlogPress Subscribers Magnet
The total cost of these licenses is more than $150. So, it would be a nice chance for you to win them for free. Three winners three plugins. You can find the details of these plugins below, whereas in the end of the post you will find how to participate in this giveaway.
MaxBlogPress Bring My Blog Visitors Back

Let me call it a revolutionary plugin. This plugin can bring your blog subscribers back to your site. Yes you read it right, it makes your feeds stand out from others. Your feeds are noticed more in the emails of your reader. Let me tell you my secret. I m subscribed to more than 100 blogs and I get about 100 Feedburner's email daily. When I browse them, I have to read the titles of the post if I found them useful I click it otherwise they are ignored.
This is what all of us do with our emails. This means even with 1000 subscribers you hardly get 50 to 100 visitors back daily. But with this Bring My visitors Back plugin you can score more visitors' visits. One may ask here, HOW? Let us find some useful features this plugin has got.
Related Content
It sends related articles with the usual feeds which make your feeds look different, in turn users are exposed to more content of your blog in their emails and finally it increases the engagement on you site, which can decrease the bounce rate. In short this feature gets you more visitors than ever. I assure you it works as fine as I stated here. You can easily set this option through settings in admin panel.

Social Sharing Icons Display
It allows you to show social sharing icons in your feeds which not only make your feeds colorful but also increase your social sharing. In-fact your feed subscribers make you earn more subscribers and also visits.

Comments inside your feeds
Bring My Visitors Back plugin allows you to add number of comments + one latest comment in your feeds, making your feeds stand out of the crowd. Sometimes a loyal visitor comment can turn your feed reader into a potential customer.

Finally Custom header & Footer
Yes you can put a custom header and custom footer in your feeds & make it look more natural, more good just like premium services Newsletters eg Mailchimp & Aweber etc This for sure increases your feeds views. If you have ads in your feeds you earn more. You get more visitors back on your blog you make them addicted to your blog by sending them nice and easy to navigate mails.

MaxBlogPress Ninja Affiliate
This one is my favorite plugins. I like the way it is coded. It makes you earn much more than ever through you affiliate links. You have an eay to manage settings page where you can get your affiliate links customized to give them a better look. On the other hand this plugin provides you an opportunity to cloak your links. Automatically adding your affiliate links on the keywords all around your blog.
Freakin' Awesome Features
Easy to manage Affiliate Link – Give your affiliates a remember able name
Flexible Link Management – It accepts all kinds of link out there for affiliate marketing
Create Professional Redirect Links – If you create a nice set of professional redirect links, people think of you as a pro-blogger e.g. freakify.com/loves/maxblogpress etc
Manage Links by Groups – If you have a lot of affiliate links then you can group them in categories eg Hosting, Themes, Plugins group for respective affiliate links
Prevent "Affiliate Theft" – Cloak you affiliate links in your content so that no one can take more advantage from your content then you could
Insert Affiliate Links Directly – Add your affiliate links in the post editor of your WordPress blog to make things easier
Transform Keywords to Links – You can automate your keywords to turn into affiliate links process. Whereas the plus point is, Ninja Affiliates also can restrict the max amount of keywords to turn into links to save your blog from looking like a spam blog
Advanced Display Status – Ninja Affiliate allows you to display whatever you want to show in your web browser's status bar
Use "No-Follow" Links – Well this is one hell of a good job this plugin is capable of, which is to turn your affiliate links into nofollow links
I guess these are much more than one can expect, there are other features for them you need to win this plugin :) I sound strange here don't I. Well no more boring text just watch this video and get the complete idea.
MaxBlogPress Subscribers Magnet
Another great invention of Maxblogpress team The Subscribers Magnet Plugin. Allowing you to get more subscribers from more plaves through more ways. Its like showing your readers nicely made optins, showing the optins in different places e.g. in comments, in pop ups etc.
Creative Features:
Show nicely made beautiful optins inside your blog posts
Show optins in sidebars to grab more attention of your visitors
Make it easire for your users to subscribe through comments
A nice popin can get your subscribers increased by 30%
Show optin bar in footer without irritating your users at all
Surprise your visitors by auto-magically filling the optins with their Names and Email IDs
Embed the optin form inside nice comments from your visitors to grab more and more attention
Use secret subscription option and make each and every comment making user of your blog your subscriber
This is not all, there are their features left behind you can browse them by finding them inside the plugins when you win.
What's the catch?  Join it Now
One may ask why these three plugins? To answer such a question let me tell you all I am trying to do is to help out my visitors who come to learn about blogging, who have zeal & zest to do things in a better ways than others to make more and more money through their blogs, to engage their users and turn them into subscribers. I can't wait to announce the winners! Just do all of the steps below ad increasing your chances by sharing and tweeting this giveaway on daily basis. More points more chances to get selected through random.org script.
a Rafflecopter giveaway

Update :Winners will be announced soon stay tuned.