Registering a Unique Domain Name:-
Whenever any new creation took place the first and foremost thing that was done was to give it a name. The name with which it will be known everywhere which turns out to be its identity. Bloggers and Web Developers create many new sites every day and they bring these up as their own kids. But naming their site with a perfect domain name is really a challenging issue. It has been seen that many bloggers and web developers are delaying their site inauguration just because they are unable to come up with a promising domain name.
[ad1]
Importance of Catchy Domain Name:-
The name of domain with which you like to associate your website is very important because this is the first thing your customers will encounter when they visit your site. Also your domain name will leave a huge impact on how different search engines will see it. This forms the basis in getting a high PR which means that your site is really popular. So now you are quite familiar with the importance of domain name.
PickyDomains to the Rescue:-

Here comes to your service "PickyDomains" which is an excellent site offering marvelous services in getting you an impactful domain name if you are in search of one. It is now a guarantee that you don't have to spend hours thinking over a domain name for your site. It is assured that PickyDomains never let their customers down and works according to their aspirations. All you have to do is to hire PickDomains for your help.
How much it Costs?
It has been seen that many different companies are serving with the same purpose. But they are charging with extremely high rates. PickDomains will just accomplish the same task in half the price. Yes! Just in $50 you may get a cool and promising name for your site. The best feature about PickyDomains is its "money back guarantee" which means if a customer is not happy with the services he may asks for a refund which is 100%.
For the ease of the customer PickDomains accept the fee in different currencies through credit card, wire transfer, PayPal, or check.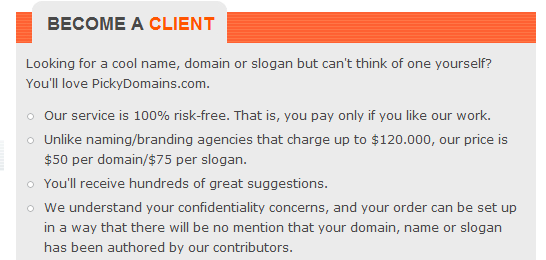 Requirements:-
The main focus of PickyDomains is on to provide maximum ease to their customers so they just demand six simple things from them which will help it to produce a quality domain name. The customer needs to provide the very basic information about his site. This includes:
The niche of your site.
The extensions that you want for it.
Length of your domain name.
Keywords that you want.
Whether additional stuff like hyphens, dashes, or abbreviations should be there or not.
Examples of prevailing sites in your niche that you will prefer.
How does PickyDomains Work?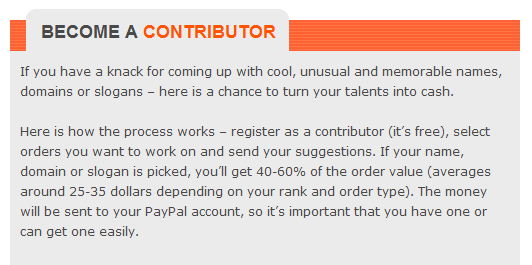 PickyDomains is based on teamwork which has hired a team of world's best contributors working
24/7
in producing brilliant domain names. The selection of contributors is according to merit and no compromise on quality is made. The best thing is that anyone can be a part of this splendid team if you possess the qualities. All you have to do is to fill up a simple
registration form
and sign up for the
contributor's
account and you become a part of this enterprise.
How will a Domainer/Contributor work?
Once you've signed up and have become a part of PickyDomains you will simply login your account. There you can browse for different orders that have been placed. Your work will begin from here. After reviewing the demands of the clients you start coming up with different domain names according to the customer's desire. After you've named a few you enter the suggested names in the into an approval list which will be forwarded to the respective client via an email by PickyDomains.
Once these are mailed the clients gets to see them and is given three options. He may tag any of the suggested name as "
liked
", "
disliked
" or "
pick any
". When a selection is made immediately PickyDomains breaks this ice to through an email. In case the client does not like the names he can simply withdraws his offer by asking for a refund and PickyDomains does as soon as possible.
Domainer/Contributor's Share:-
If you are the lucky one whose name is suggested then PickyDomains does do justice in rewarding your share and appreciate your efforts. Of the total's client's fee it pays you half of it which makes $25. Isn't it amazing, you can earn a handsome amount in few hours by just giving in some names?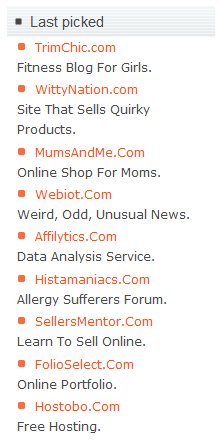 PickyDomains is not the only organization which is offering the same service. There is a tough competition in the market. But why one may go for PickyDomains? The main reason is its quality stuff which it is producing in a limited amount of money. Plus PickyDomains is 100% risk free. All the web developers and bloggers can build their trust in it because all the information is kept highly confidential. Plus it is doing good to many people who are earning their living as contributors by paying a generous $25. PickyDomains is safe to use because there is no risk that client's fee go waste he can get it back easily. 
I would say just give it a try you will find it awesomeness on your own. If not satisfied you can always get your money back. (Within Terms)
Conclusion:-

Ever since the average price of domain has fallen, a high and tough competition for the domain names is seen. As bloggers and web developers, the more time you take in buying your domain name the more difficult will it become for you to get into this business. So whenever you plan to start a new site and you are facing the issues of naming your site, I recommend you to go for PickyDomains with just $50 in your pocket.
[ad]