Recently I posted an update about Moneybookers Not Working. It is up and working again. The team at Moneybookers was so fast at responding. But most of the people started asking what was the error. Why it stopped working? Even though for a little while, but it created a hell of a fuss around the world.
Moneybookers Not Working! So here you can see

So what can be the expected reason?
What I think is they are trying to put a new look calling themselves Skrill instead of moneybookers. If you know this year Paypal site was also redesigned. Not only paypal but the firm known as Alert Pay got shifted to another name called Payza these days. Moneybookers might be trying to roll out an update.
It lags behind in the race from Paypal. Paypal is way more accepted then Monybookers. If an if only they can increase their integration in online carts they can get a massive business model update as well.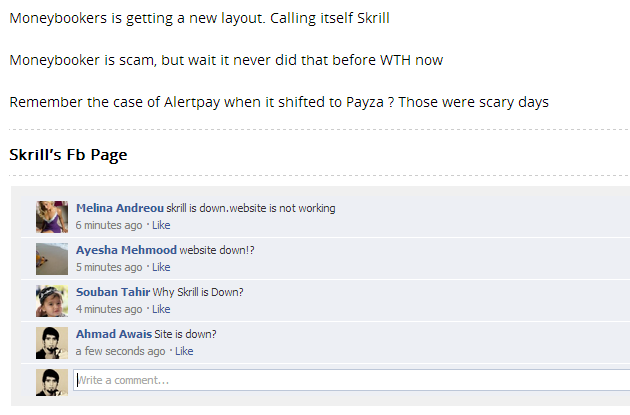 What I suggest?
I suggest them to roll out a massive update. Get there payment integration plugins evolved. e.g Moneybookers cart plugin for WordPress, Drupal, Magneto, Joomla etc. Get some nice chipin type Donate widgets available as well. It surely will get them a lot of increament in the business they are doing right now. It will not only be benficial for them but also for the countries where Paypal is restricted people will use their services and will feel at ease.
What you say?
Dang I forgot to ask! Do you have any suggestion in realation to moneybookers new update going skrilly?

[ad1]