Microsoft Office 2013
Microsoft Office suite is inspiring billion of hearts throughout the world since many years. Recently, at an event held at San Francisco week ago, the new official version of Microsoft Office 2013 was unveiled. According to the officials at Microsoft it is stated that this version of software comes with the same boldness which is coincided with the features of Window 8 and the target market for this new version will be students, families and consumers. This software is amalgamated with the features of its previous versions with some new exciting features. Microsoft has connected the software to the Azure Cloud. Microsoft Office 2013 comes up with some limitations that it will run only on Window 7 and Window 8 on your gadgets. This means that Windows XP and Vista will not entertain this software. Before discussing its exciting new features I will give a review of the Microsoft Office 2013 from the process of installing to the contents of the Word, Excel and Power Point.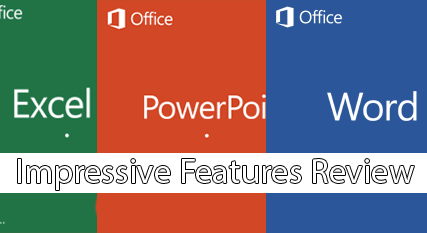 Installation:-
For installation first you need to download and install its "preview edition." Then you need to sign in the Windows Live ID screen, to get access. There you can see the option i.e. Download a Click-to-Run installer. This will complete your entire installation process. The installation of Microsoft Office 2013 on up to five PCs is its latest feature. The system uninstalls Office from more than one device and then you can install it on a new device and you can find the new version in the Start menu.
Microsoft Excel 2013:-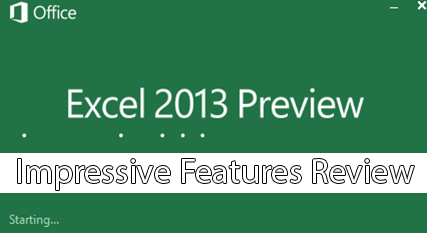 Apart from the nine tabs excel consists there are other features which need to be highlighted. It is offering better accessibility in terms of guidance on how you can work well on excel making its users to gain a command over it. Excel 2013 supports multiple monitors and now you can work with two Excel workbooks open at one time. Excel 2010's software PowerPivot and SharePoint are now coupled with Excel 2013 which made the sharing of spreadsheets possible. Excel 2013 can now be used to design applications using HTML. These apps will work on both the standalone Excel environment and the cloud-hosted Web app. Now let's look at the tabs. The basic structure is very much similar to the previous version except changes in the Insert tab and Data tab.
Microsoft Word2013:-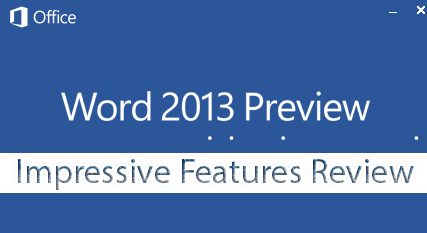 With Word 2013 we find new templates and design tools for our documents. Reading is now much easy through the Read Mode and Object Zoom. Bookmarking your content is another feature. Sending a link to the same file can be done by the default saving of the document online to SkyDrive and SharePoint. Even more if a person doesn't have Word still you can share your document by following the documents on their browsers. Hence, the feature of file saving and sharing makes this possible to happen.
Microsoft PowerPoint 2013:-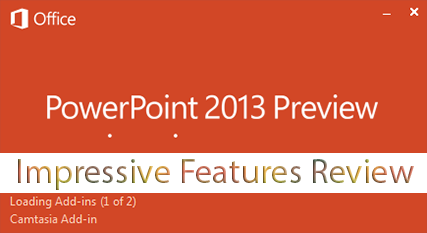 Structurally, PowerPoint is the same in the two versions in terms of tabs. But you can work with others at the same time. Through wide-screen themes you can make your presentations look more appealing and you can add videos, pictures, and shapes, and create customized icons. There are the design elements and other tools used to merge one shape into another. You can select a theme, add a design variant, and align text and pictures. The zooming feature helps you to grab the attention of your audience in a presentation. Plus you can switch slides, regardless of whether they are in or out of sequence. You can do this with a grid that only you see, so your audience sees only what you've selected. Also when you project to a second screen, you won't have to worry that your presentation appears on the correct screen.
An additional is the Compare tab is added which enables the users to compare two different versions of a presentation and allows you to insert changes to make modifications. One new feature is show comments allowing you to place and view comments on the slide.
Conclusion
To conclude let us sum the latest features that Office 2013 is offering.
Office allows you to touch everywhere as it can be done with keyboard and mouse. With just a touch of your finger you can sweep across the screen and zoom to read your documents.
Now you can create your content and access features with you stylus. You can automatically covert your handwritten email to the text with this feature. Your stylus can be used as a laser pointer for presentations and you may add color to your work and erase your mistakes quite easily.
Microsoft Office 2013 now allows saving of documents to SkyDrive by default, making your file always available to your gadget.
With Multitouch and stylus-enabled displays now you can conduct your work on a large level using 82 inch touch enabled display.
Microsoft Office 2013 allows its users to have a look at their contacts in an organized manner through the exciting feature of People Card. This includes complete information with pictures, status updates, contact information and activity feeds from Social Networking Sites.
Microsoft Office 2013 is now offering its users with Skype. Add your Skype contacts into Lync and call or message anyone on Skype. On subscription you get to enjoy 60 minutes of Skype per month.
Subscribed consumers can get future upgrades to attractive cloud services like Skype world minutes and extra SkyDrive storage through office 2013's cloud-based subscription service.
Read Mode in Word has made reading much more interesting that adjusts for large and small screens. Featuring zoom in and out, stream videos within documents, view revision marks and using touch to turn pages makes the reading much more exciting than before.
Office 2013 Home and Student 2013 RT, now comes up with new versions of Word, Excel, PowerPoint and OneNote applications and soon will be included on ARM-based Windows 8 devices, including Microsoft Surface.
Your recently used files, templates and even your custom dictionary can be personalized once you signed in to Office 2013. These roam with you across virtually on all of your devices. In just a single click Office even brings you back to the position where you last left.