With the advent of Social Networking sites the concept of branding your product has revolutionized. One may say, these sites have glamorized the concept of trade. Of all the social media according to me, Facebook is the most popular and challenging forum where you not only connect to your friends but also promote your products and services, acquire new clients, or get traffic to your site. All the bloggers are really facing the crises of the growing popularity of Facebook which is distracting people from reading their content. So to bring back the people to their blog through Facebook and gain extra traffic is the topic of discussion for today. Lets start How to Boost Your Blog Traffic through Facebook
Linking Facebook to your Blog:-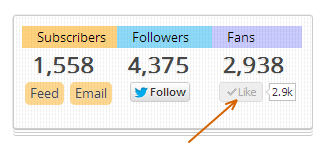 The foremost thing is to create a link between your blog and your Facebook account. When it comes to bringing extra traffic through Facebook then your main focus should not be connecting with friends but to direct your friends to your blog. But this should be done in a healthy manner i.e. you should not force others to visit it. Your actions should speak for it.
[ad]
Impressive Profile:-
Your Facebook profile should be such that it should sound really interesting for your blog. Give sufficient information about your blog which leaves a healthy impression on others. Plus a very important tip keep your profile content public, because this way other people might get to see your profile and get inspired from your work.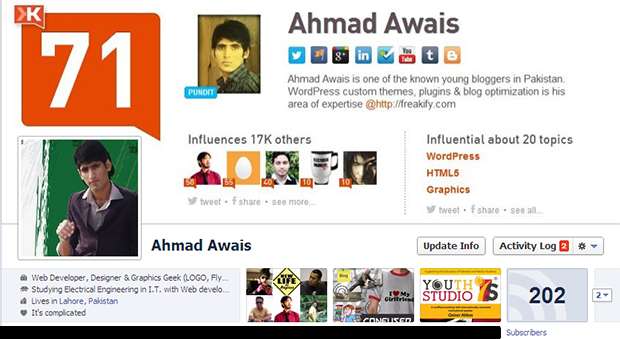 Tell people about you in an impressive way by showing them your KLOUT.com's rank in FB cover.
Impactful Images and Videos:-
When it comes to bring more traffic through Facebook then every feature of Facebook should be used for this purpose. Yes! Here I am talking about adding images and videos which is the best way to grab attention for your profile. Recently, Timeline has added an additional feature where you can add a complete layout of your blog as your cover photo. Through these people are more prone to drop in their feedback through like, share and adding comments.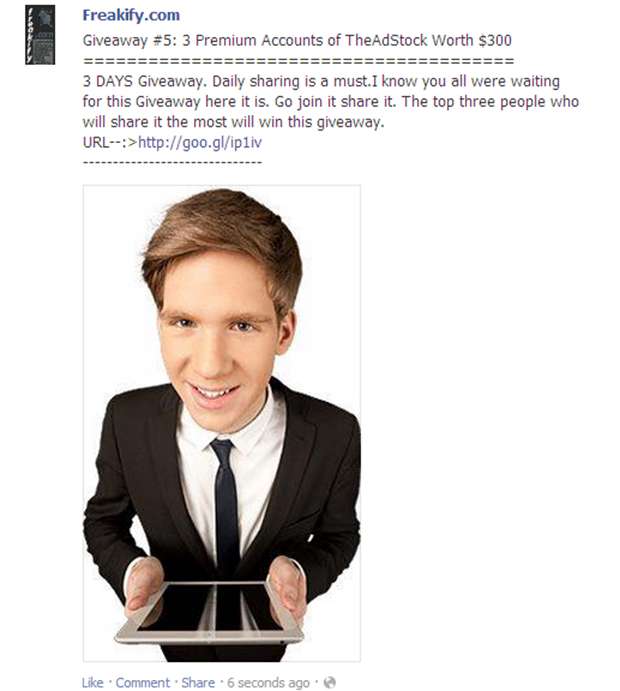 The result is your post appears on your News Feed and people seeing such a responsive post also give it a chance to see.
Facebook and other social networking sites:-
An effective way to bring traffic to your blog through multiple sources is to connect Facebook to other sites such as Twitter. This increases your arena of interaction with your fans and friends. Any of your latest tweets on Twitter will appear in the Facebook notifications if you connect these two.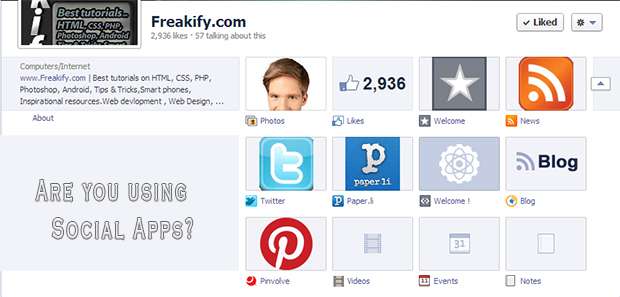 Facebook and other Bloggers:-
It has been seen that many bloggers throughout the world are using Facebook for this purpose. So if you adopt the habit of interacting with other bloggers it will be of great help for your blog. You may share, like and comment about their blog post and they will return this favor by doing the same when it comes to your blog post.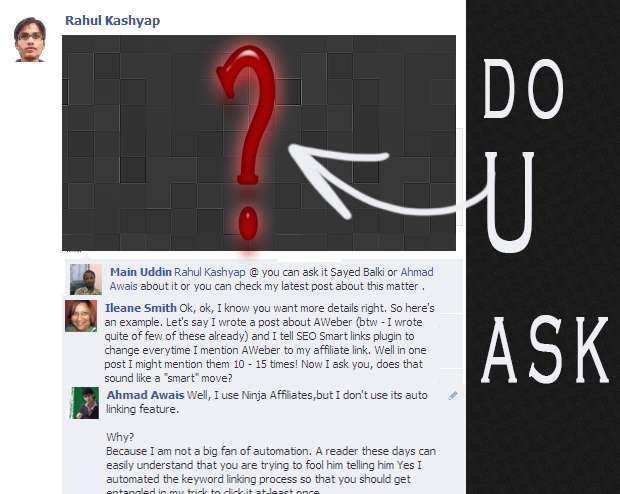 Regularity:-
No matter how much impressive is your Facebook profile, but it's of   no use if you don't post your blog stuff regularly. In this way you will lose your traffic instead. Even if you don't publish your blog post every day, but updating a catchy status of the day will do the job. It will hook up your followers to your blog.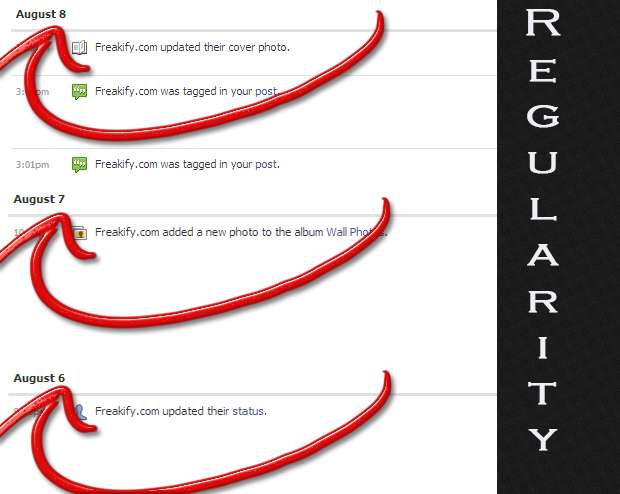 Be active:-
The people on Facebook should not get the impression that you are using it just for your personal interest. So apart from making your profile impressive be active in visiting profiles of others. Take part in their group discussions and prove your worth to them forcing them to visit your site.
Start your Facebook Fan Page:-
Facebook, unlike other sites is quite flexible and has lot to offer. Along with your link to your blog you may add RSS feed in the available space helps to generate more traffic. Sometimes it is very difficult to find a group or a fan page of the niche of your interest. So it is a wise choice to start your own group and fan page where you can publicize your blog on a larger level. Such features provide a platform to your readers where they can easily put up their queries. E.g. freakify.com also bears a Facebook Page i.e. Freakify. Here you can share your every blog post.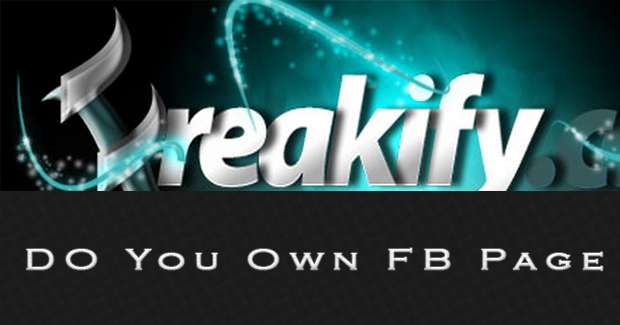 Facebook applications:-
Facebook is introducing its exciting applications regularly to cater its users. There are applications which can do wonders for the bloggers and bring them extra traffic.  Applications like MarketPlace widget/plugin or Blog Friends widget are of quite help. For cross posting there are several widgets because these saves your time.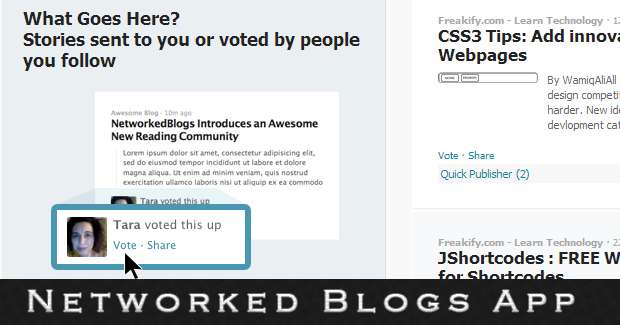 Your own Facebook extensions:-
If you are competent enough then you may write your own Facebook extensions. This is not popular among many but if you do this, it will be quite rewarding for your blog if generating extra traffic is concerned.
[ad1]

Facebook Social Ads:-
If for your blog traffic is not turning up the natural way then Facebook social Ads there to your rescue. These are the PPC ads and their starting campaign is very much similar to Adwords campaign. In this way you can bring people to read your content.

Appropriate time:-
The major point when it comes to promoting your blog is that you should post your blog content on your Facebook profile very wisely at the correct time. According to survey, there are certain time when a lot of traffic is coming to Facebook. So that is the most perfect time to publish your posts so that majority gets a chance to see it. According to statistics: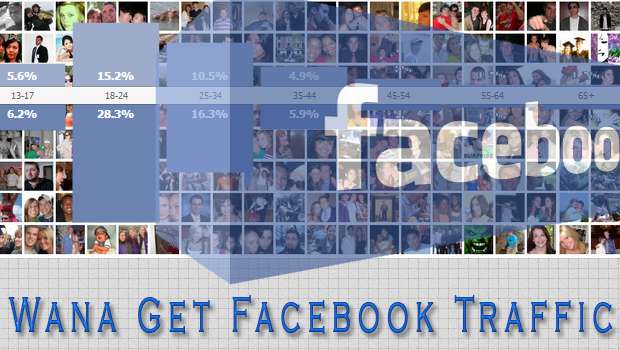 Content gets more Likes and Shares after 8 pm
Maximum Likes come around 8 pm whereas for Shares it is 6 pm
Saturdays and Sundays experience a high Like ratio while Wednesday, Thursday and Friday gets the worst.
[ad]
After reading all the above mentioned ways I am sure many of you might be thinking that maintaining Facebook is itself a full time job so why to add more stress. But if this brings you traffic then this is not a bad deal.