Second Google Doodle for Pakistan ; 65th Independence Day is really a lovely one. Happy Independence to All our Pakistani brothers and sisters. Last year it was the first time ever Google cam with a Doodle for Pakistan, this year we have another one, a really unique one. It depicts the Pakistani Culture of handicrafts & truck designs. Google has again won the Pakistanis' hearts  by showing its love towards their  65th Independence Day.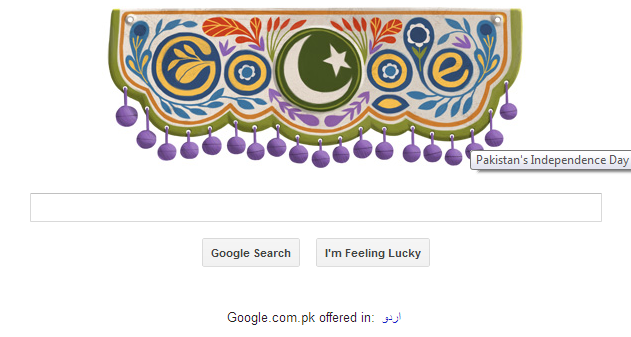 [ad]
Google Doodle for Pakistan
So how do the Google's Doodle looks like this time? Here below you can see the both of the doodles.
[ad1]
First Google Doodle for Pakistan
First Google doodle was depicting the colors pf Pakistani flag and Menar-e-Pakistan was inside it
Second Google Doodle for Pakistan
Already in love with the present Google Doodle for Pakistani users it has. Quite a cultural look.

Your Turn
Tell us How much you like this one?
Which one is better according to your point of view?
More…
I know you all want more than just a this, so go here and you will find a lot of Google Doodles. Particularly those which were made this year. Hey, don't forget to comment eh!
[ad]