WordPress themes are always interesting to use for better blogs or websites. For an upcoming year, we have gathered 40+ Premium/Paid WordPress Themes  of 2014. Start your new year with these interesting themes. Have a blessed one!
Boldframe
Boldframe theme is responsive theme. It follows the style of those sites which utilize the trend of timeline based designs such as facebook. It supports not only basic functions but comes included with useful third party plugins.
Sofa Lathika
Sofa Lathika is a responsive and clean blog template. It allows a post to have an icon highlighting what type of content it is by utilizing WordPress custom post type. It also includes page template for handling your portfolio which looks nice.
Juxter
Juxter is a beautiful wordPress theme. It features variety of templates and unlimited customizable options include integration from Google Web Font Directory with over 500 fonts. The theme is multipurpose as it is used for so many purposes such as portfolio, product oriented sites etc.
Reason WP
Reason WP is a highly customizable and responsive theme. It is available with three skins and ten homepage layouts. It has great outlook. It works great on all devices even mobiles.
The Daily Press
A
A (minimally named) WordPress theme is a unique theme which is designed for sole blogger. Most of the non-post content is kept to a soothing minimum.
Avenue
Avenue is a theme which is rich in features that deservingly advertises itself as a theme. This is a great theme allowing you to easily transform your blog into a full-blown reviews site.
Sprout
Sprout is a very nice magazine/blog theme. It is featured with ten unique styles that help in changing the looks and feel of theme. Even the users can select the background they like the most storing it as personal default for future visits.
Retro Portfolio
Retro portfolio is a portfolio theme with retro vibe. It has beautiful outlook. This theme fantastically uses typography to create an awesome look and feel throughout the design.
Gonzo
Gonzo is a very responsive wordpress theme which is really very nice in looks and functionality as well. It looks fantastic in different sizes even in mobiles.
Premium Pixels
Premium pixels is a clean and responsive theme for the bloggers which take pride in their appearance. It is fully customizable through a variety of editable options.
Broadway
Braodways is a theme that features a built-in review system. Using Broadway it becomes easy to make audio, video and photo entries on blogs. Not only can you review items, but your users can input their own ratings when you post.
Me Gusta
Me Gusta is a beautiful themes with not only beautiful looks but functionality as well. Moreover you can navigate the theme with your keyboard.
wp Traveller
Wp Traveller is an amazing theme . It is designed particularly for those who run a site based around travelling and locations. wp Traveller is the best place to showcase your travels with a large Google-Powered Map. This is just the perfect theme for travellers.
King Size
Good style, Full sized and full screen background theme named " King Size " The theme is much popular these days due to its gallery, We can show case our products/articles in it and make portfolio of images and videos easily. The theme has a custom admin panel, Widgets and some short-codes.
Dandelion
Dandelion is one another responsive wordpress theme with unlimited skins as written in the picture below, it has a very powerful admin panel so you can customize everything in this theme very easily. Along with theme you'll get documents and PSD of all images 3 featured jQuery sliders and 3 portfolio ready-made templates.
Classica
Classica is one beautiful and minimalistic portfolio theme for photostudios and freelancers. It has a responsive design and you can use it as your portfolio.
Ying & Yang
Ying and yang is a professional looking minimalistic style wordpress theme  with video support.
Rockwell
RockWell is a best wordpress theme for games, Cartoons and gthese types of websites. it has a responsive design with good looking jQuery sliders.
Village
CONTRAST
ShapeShifter
Kid's Voice School
Arctica
Guesthouse
Energized is a full responsive and SEO Optimized wordpress theme with unlimited layout possibilities. We can use a big number of shortcodes and sliders in this theme and the theme is designed in HTML5 and CSS3.
Automotive
Flagship
Not only responsive, but also optimized for mobile phones (Every type of). Flagship has more then 20 skins and the good thing is that you can also make your own skin, whatever design you like. It have multi language support with video support, content importer and drop down layout builder which you can't get in any other wordpress theme.
LiveWeb
Liveweb is a professional wordpress theme especially designed for web hosting websites, Its stunning design can attract many customers towards your services and yes! it is also a responsive design
CheerApp
CheerApp is a wordpress theme with a modern design and video slide support. You can also do live search in this theme and the good thing in this theme is that we can also use bbpress forums skin. The is made professionally and have a responsive design.
CleanSpace
This is one another wordpress premium theme of 2014, This theme include 5 backgrounds, 5 custom widgets and one ajax powered contact form, Basically the theme is made for portfolio's but you can use it as multi-site theme.
Grizzly
Grizzly is a responsive and portfolio theme for wordpress 2014, It has a built-in Apps showcase, Images slider and a admin panel to set theme preferences. You can buy this theme at very cheap rates from themeforest.
Earth
Earth uses a natural colour palette to offer an earthy touch. This theme is produced with environmental groups in minds.
Relief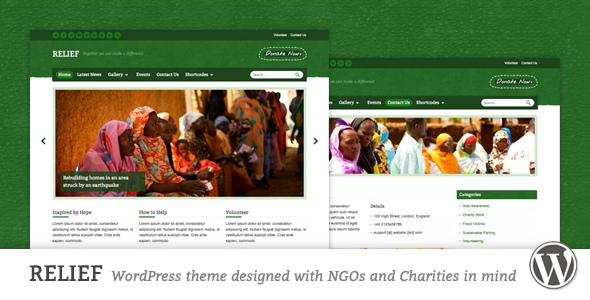 This theme is for charity unions. It offers a layout that does their work justice. It includes an event section and a section to promote news.
Green Earth
It is an environmental WordPress theme which uses Greens and Browns and fit the environmental style. It is featured with Page builder feature that allows to build custom templates for your site.
Domena
Domena is for hosting visitors to parked Domains that is elegant, clean and simple. It is featured with variety of colours. It helps in easily marketing your domain encouraging visitors to purchase at a set price. Domena is really nice WordPress Theme.
The Novelist
The novelist is a beautiful unique theme. This theme helps you in p[resenting your website posts like the pages of a book. It includes right and left arrow keys for easy navigation. This theme is responsive with great looks.
The Navigator
The Navigator is a unique theme centered around travel and location based sites with excellent google map introduction.
Nine to Five
Nine to Five allows to wordPress to act as a Job Board with Paypal based Payments, resume uploaders, Google Map Integration for locations and much more. This is a unique and functionally awesome theme with two skins and eight colour schemes.
WordPress Wiki Theme
Instant Q&A
Eventalist