By now people are fully aware, that how can they get online help if they are facing some issues regarding their multimedia tools. Video editing and converting is a tiring job if you don't have a good and well optimized resource. Many software companies prove that they offer the best video editing software but they fail badly when it comes to implementation. So, today I will be sharing my experience of using the best software for video editing. If someone asks me to recommend such software so without having any second thoughts I will suggest Aimersoft Video Editor!
Since April 2007, Aimersoft Studio has dedicated itself to launch the most powerful, versatile and user-friendly DVD, Video, DRM, YouTube and PDF software. Offering its customers with free trials of every software allows them to test before they spend money on its purchase. This way the concerns people had with the credibility of software are surely solved.
Services of Aimersoft Video Editor:
With this amazing software you can enjoy the following services:
You can split a long video into multiple clips

You can merge multiple videos into one file

Copy, paste and delete video segments

Remove/extract audio from videos

You can crop videos to remove black borders

Rotate videos to correct orientation

Correct colors to enhance videos

Speed up and slow down videos

Compress videos for smaller file size

Features of Aimersoft Video Editor:
As I have already mentioned that this software is pretty versatile to the extent that apart from its basic services it provide some additional features as well which are amazing.
You can watch the real-time result with the built-in preview windows and can take as many snapshots of your favorite video scenes with Aimersoft Video Editor.
With the Fade in Fade out effect you can enhance your audio files easily.
You can increase and decrease the pitch of your sound with the Adjust Volume and Pitch feature.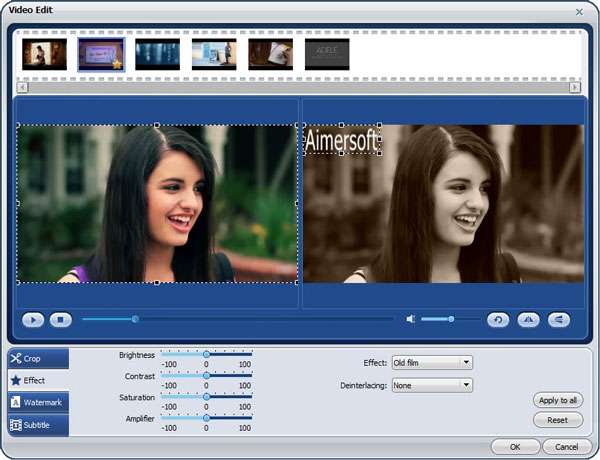 This software has the ability to automatically detect scene changes in a video, which enable you to precisely split your footage into clips.
You can also record your own narration which can be coupled with your video.
With its amazing Power Tools you can apply attractive features like face-off, mosaic, tilt-shift, jump cut to your videos.
Aimersoft Studio Products:
Currently, Aimersoft Studio has a long list of some very authentic and useful products which are benefiting the people in the fullest. Some of the names and details of these products are as follows:
DVD Tools:
Products that are included in this category are: DVD Ripper, Blu-ray Ripper & DVD Creatorand DVD Copy. These perform the following functions:
You can convert DVD and Blu-ray movies to all popular formats
You can easily burn any video to DVD on a DVD player
Likely, you can copy DVD to DVD or hard drive
Video Tools:
Products that are included in this category are: Video Converter, Video Converter Pro, Video Converter Ultimate and Video Editor. With these you can:
You can convert and edit video/audio files of all formats
This can make your media files available to you every time no matter where you are

DRM Tools:
Products that you will find in this list include: DRM Media Converter and Music Converter. Through these products you can:
Ensure the Professional DRM removal
The converter allows you to enjoy DRM-protected video and audio files anywhere
YouTube Tools:
The products that you will find here are: Free YouTube Downloader and Music Recorder. These will perform the following tasks:
With YouTube Downloader you can download your favorite YouTube videos in a single click
Later, you can convert them easily in your favorite format
PDF Tools:
Intuitive PDF converter & Aimersoft PDF Converter Pro are the products that you can get in the PDF category. These tools:
Help you to convert PDF files into different formats
This way you can edit and share them easily
 Conclusion:
By far, I guess the above mentioned facts says everything about this brilliant software. So, next time whenever, you need some solution for your multimedia tools you should definitely go for Aimersoft Video Editor.