Font Magnifier is a great application for Nokia N97 to change font size of your Nokia N97. You can change the size of the fonts of your Nokia, from 50% to 140%.
You can compare the size of the standard font with the new size of the resized fonts. To return to normal size press Options > Restore default.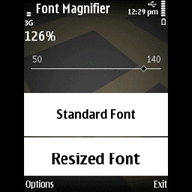 VSCode
Related Stories
There was a time when Nokia went far behind in the...
NOKIA says NO to Android Replying to the rumors sp...