Spending the entire day in a 4-sided coffin in front of your computer screen, with extreme temperature of summers, dying of thirst of chilled water, dripping down with sweat due to electric shutdown coupled with internet connection issues are the worst possible conditions faced by pro-bloggers especially in third world countries. You can see many pro-bloggers around roaming with their net chips in hands moving them freely in air in search of signals.The above mentioned issues are more than enough to demoralize a pro-blogger. Even then if by chance a pro-blogger successfully surpasses all of the above issues the merciless world is still there to struck his nerves.Today I aim to acknowledge al the bloggers who are working day and night serving their readers with good content but tolerating their broken hearts' pain.
What's the Catch?
It has been seen that blogging is a full time job. The world of blogging is very cruel in terms of competition. It does not entertain any pro-blogger who is producing stuff of low quality neglecting all the great work he had done previously.Today, there is an open list of options for the traffic visiting the blogs. Here you just enter the first few keywords in the SEARCH ENGINE you are looking for and you see a long list of your related searched stuff. Hence, for a blogger the most important thing is to make his content CREATIVE and EYE CAPTURING one.
How you Break Heart of a Pro-Blogger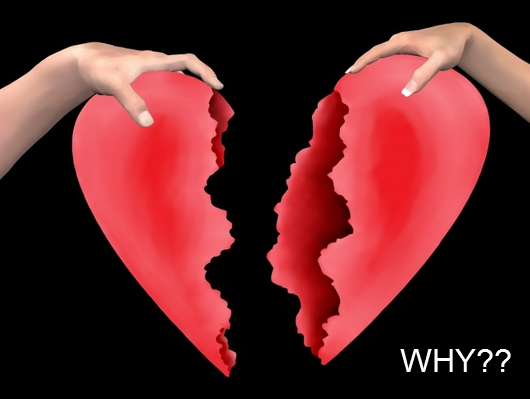 Pro-bloggers spend hours dedicating their lives to this creative world but unfortunately it often happens that response they get is very pitiless.
Users sometimes act so selfish that after benefiting themselves act miserly in appreciating and giving good comments.Yes It happens with me too, writing quality posts and getting almost no comments.
It is a common observation that a blogger also mentions an extra REFERRAL LINK for the help of the user, but sad reality is that this favor often terms the blogger as HACKER or an EFFII++.(Did I just say crap? :P)
Rapid hacking attempts acts like an icing on the cake, so we bloggers don't just blog we have to take care of our blog's and readers' content security, end users hardly manage to understand these things when a blog goes down.
Bloggers also get demoralized by the technical issues they face e.g. hosting issues, this is one of the most common cause where bloggers loose their readers, and had to tolerate a lot of fuss by them.
Sometimes, the SERVER GETS DOWN or the INTERNATIONAL POLICIES hit upon like an earthquake and its tremors are felt for days to come.These are called the nightmares in the life of a blogger.
Family and social pressures faced by them because still many people don't take blogging as a PROFESSIONAL CAREER.
Curing the patient Bloggers
Now the question arises what can be done to BOOST UP the pro-bloggers. The main responsibility lies on the part of the USERS.
Users should be more supportive in not only benefiting themselves but also towards the pro-bloggers.
Users should be kind enough in PRAISING the work.
To gain SHORT TERM BENEFITS they should not practice unfair means to destroy the UNTIRING EFFORTS of a pro-blogger.
Users should show their love towards the worth of the blogs they read.They can manage writing articles for them & assist them to progress.
At the same time the close associates of the blogger which includes their family, they should be affectionate and understanding.
They should WELCOME BLOGGING as a respectable profession and uplift the confidence of their child (Bloggers).
If you are a friend of any blogger, then go right now & appreciate their work for one, they already had been giving much to blogging.
I speak my MIND
Blogging will be easy to digest till you enjoy doing it as long as you don't take it on your nerves. One should remember that life is not a bed of roses you have to struggle till you reach a bench mark. Only then you get a chance to stand with pride.
Your Turn
Did you like the post?
What cures do you suggest?
Are you leaving this article without any comments again? :(