Star Trek: The Original Series
Star Trek is a science fiction by Gene Roddenberry full with adventures of starship of USS Enterprise and its crew, led by Captain James T. Kirk, first officer … 
Wikipedia
Google Doodle For Star Trek
One of the really creative doodles Google have since they were initiated. It's kinda game which you can play HOW? just go to Google.com and follow the 4 balls teaser in the left of Google's Logo, what you will see after clicking those will be the doodle we are talking about.

[ad]
When you will hover your mouse over the door in it, you will be able to click, here is where the game begins then you follow it up and end up killing some strange creatures. It's good how Google mingle up with such events, bringing our attentions towards the stuff we might have forgot.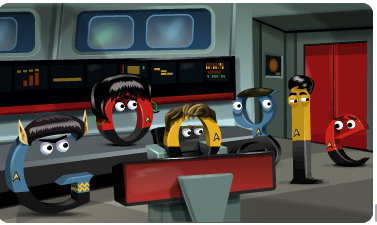 Over to your hands:
Can your hands exclaim in a form of comment how much you liked this doodle ?
[ad1]