Streaming Media Server Software
When it comes to well renowned media systems, Wowza Media Systems is the most popular and successful one. The company develops many useful and promising software that are aimed at media server and video streaming. The target market is media properties, enterprises and different organizations who deal in delivering videos to any digital screen be it computer, mobile phones or TV.
The advent of this company has solved many of the major problems that the media server market was facing over the past few years.
Wowza Media Server 3.5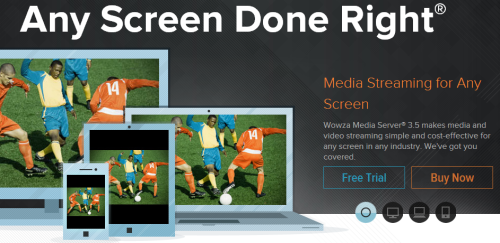 Wowza Media Server is a unified server software, which is used for live streaming media and on demand video, audio, and RIAs over public and private IP networks to desktop, laptop, and tablet computers, mobile phones, and other network-connected devices. This server is a Java application which is applicable on all operating systems.
It is high performance and high value software. It is a multi-threaded software that is capable of delivering up to 10 Gbps of per-server video streaming performance for on-demand and live streaming on standard hardware.
Add-ons:
In order to manage your media streaming for live or on-demand content, chat and recording on a large scale, the company has a large and a variety of free and premium Add-ons. Some of these Add-ons that Wowza offer are:
Wowza Transcoder – Helps you to transform incoming live streams into multiple stream sets for H264 adaptive bitrate delivery. Non-adaptive streams are also delivered by Wowza.
Wowza nDVR – It helps the user to increase revenues for himself. It also enhances viewer engagement with time-shifted features. Hence, this saves your time and money.
Wowza DRM – It integrates digital rights management platforms which are studio approved with great ease. This delivers the on fly encryption for live and on demand content.
StreamLock Add-on – This was created keeping in view the safety of stream videos using RTMPS.
Features
Wowza offers great features which grabs large audiences and serves them well. The features are:
Wowza delivers live H264 video and audio streams to any player supported by Wowza software, from a single set of source live streams.
It works with a wide range of encoders which you can select according to your requirements.
Sometimes it is hard to implement adaptive streaming simple and cost effective. Hence, for this purpose optional Wowza Transcoder AddOn runs on the same hardware with the server to transform live streams from H.264 and non-H.264 to adaptive bitrate streams. This provides you a remarkable viewing experience.
Viewers can pause, rewind or resume with nDVR AddOn which provides a time-shifted viewing experience.
Now you can also record a live stream for later on-demand playback. This features allows you to record an entire live webcast into a single file.
Stream directly from H.264 IP cams to the Wowza Media Server.
It provides full assurance that your on stream videos are fully secured.
Wowza provides streming to its audience in multiple language.
Pricing
Wowza offers multiple licensing options which are very affordable and easily accessible. Three different packages are offered namely Daily, Monthly and Perpetual. The price range between $5 and $995. Free trial is also available so that you get a chance to adapt yourself. You can choose the package which suits you the most.
Partners Worldwide
The progress of this software can be judged from the fact that over 120,000 licenses have been issued worldwide under the banner of Wowza. The company sets new standards of functionality, reliability, efficiency and cost-effectiveness for simultaneous media streaming that is applicable to any screen. It bears partnership with the best companies of the world.
Hence, to conclude, that no other screen streaming software matches the services of Wowza after reviewing all of its features and services.