Tree:
To write a program for implementing binary search tree algorithm in Pre-Order, Post-Order and In-Order traversal we need to understand a tree. Tree is a data structure which contains child and nodes. child can be or right. In the same way nodes can be left or right. The top of the tree is called Root Node. Root node has at most two child. Each node also points child node. If you want to find a  node in the tree you can do this only if you the address of starting node which is root node. A tree which contains no child but only contains a single node which is root node is called NULL Tree. This was all about tree now lets talk about binary tree.
Binary Tree:
Basically we are using binary tree to implement binary search algorithms. Some people also use this to implement binary heaps but here we will only talk about binary search algorithms. There are different type of binary trees like rooted binary tree, full binary tree,  perfect binary tree, complete binary tree, infinite binary tree and balance binary tree. We will not discuss all these types here we will focus on implementing it from programming point of view. Following figure shows an example of binary tree.

Operation on binary Tree:
Insertion:
First we will perform insertion to complete our binary tree then after that we will apply search algorithm on it. When a node is inserted below a root node they become the child of root node and height of tree is 2 when first time a node is inserted to root node. When more nodes are inserted height of tree is increased according to insertion. when node is inserted it can be left or right depending upon the user interest but there are some kind in which program decides where to insert the node.
Deletion:
Deletion is a method in which node is deleted. If its the leaf node then its just removed no other operation is involved but its not a leaf node then we have to perform some operation like we have three nodes A–>B–>C and we want to delete node B then result will be like this A–>C. B is removed now A is pointing to C.
Search Iterations:
we are implement three iterations.
Pre-Order.

Post-Order.
In-Order.
Pre Order   :   Search Sequence   —-> Root Node —-> Left Child     —-> Right child
Post Order :   Search Sequence  —->  Left Child   —-> Right Child  —>  Root Node
In Order      :  Search Sequence   —-> Left Child   —->  Root Node  —-> Right Child
 C Plus Plus :

#include

 < iostream >
 

#include

 < conio.h >
 

using namespace

 std;
 

struct

 node
 {
 

int

 info;
 node * left ;
 node * right ;
 };
 node * tree = 

NULL

 ;
 node * insert ( node * node , 

int

 info ) ;
 

void

 preorder ( node * tree ) ;
 

void

 inorder ( node * tree ) ;
 

void

 postorder ( node * tree ) ;
int

 main ( )
 {
 

int

 choice , info ;
 

while

 ( 1 )
 {
 cout<<"\n1. Insert Node"<<endl;
 cout<<"2. Preorder traversal"<<endl;
 cout<<"3. Inorder Traversal"<<endl;
 cout<<"4. Postorder Traversal"<<endl;
 cout<<"5. Exit\n"<<endl;
 cout<<"Enter Your Choice : ";
 cin>>choice;
 cout<<"\n";
 

switch

(choice)
 {
 

case

 1:
 {
 cout<<"Enter the number : ";
 

cin

>>info;
 tree=insert(tree,info);
 

break;


 }
 

case

 2:
 {
 

preorder

 ( tree ) ; 

break;


 }
 

case

 3:
 {
 inorder( tree ) ; 

break ;


 }
 

case

 4:
 {
 postorder ( tree ) ; 

break ;


 }
 

case

 5:
 {
 

exit

 ( 0 );
 

break;


 }
}
 }
 }
 node * insert ( node * newnode , 

int

 info )
 {
 

if

 ( newnode == 

NULL

 )
 {
 node * temp = new node ;
 temp -> info = info ;
 temp -> left = 

NULL

 ; temp -> right = 

NULL

 ;
 newnode = temp ;
 }
 

else if

 ( newnode -> info > info)
 {
 newnode -> left = insert ( newnode -> left , info ) ;
 }
 

else


 {
 newnode -> right =insert ( newnode -> right , info ) ;
 }
 

return

 newnode ;
 }
void

 preorder ( node * tree )
 {
 

if

 ( tree != 

NULL

 )
 {
 cout<<tree->info<<"\t";
 preorder( tree-> left ) ;
 preorder( tree-> right ) ;
 }
 }
 

void

 inorder(node* tree)
 {
 

if

( tree != NULL )
 {
 inorder( tree -> left ) ;
 cout<< tree ->info<<"\t";
 inorder( tree -> right ) ;
 }
 }
 

void

 postorder( node * tree )
 {
 

if

 ( tree != 

NULL

 )
 {
 postorder( tree-> left );
 postorder( tree ->right );
 cout<< tree -> info <<"\t";
 }
 }
 Output: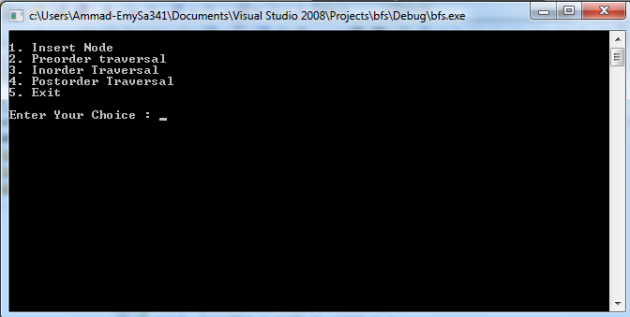 Insertion In The Tree: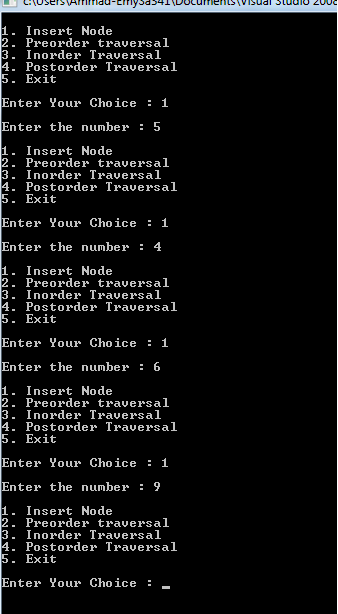 Pre Order Traversal Output: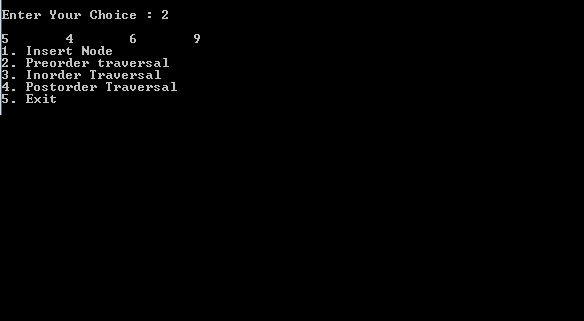 Post Order Traversal: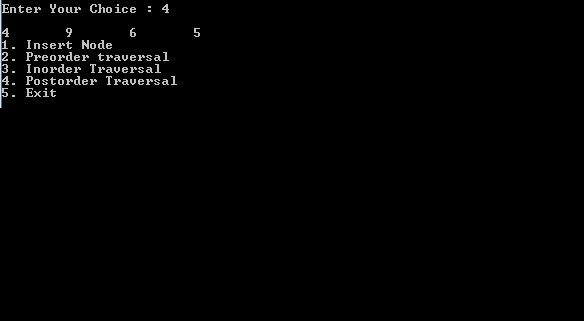 In Order Traversal: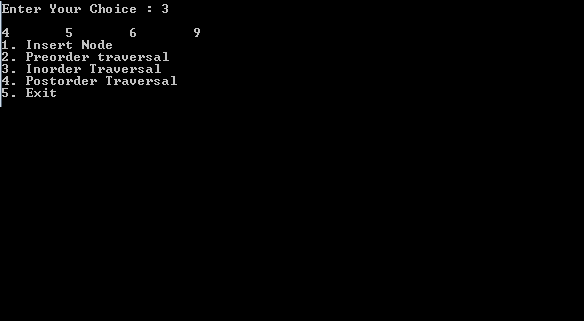 Author Muhammad Ammad

I provide technical Tutorials for beginners. The nature of my work is to develop efficient algorithms for solving real world problems. All development resources can be found at our sites. If you face serious problems related to my tutorials, contact us using the contact form at StyleBizz and TechnoGerms